The Most Stylish Shoes With Wheels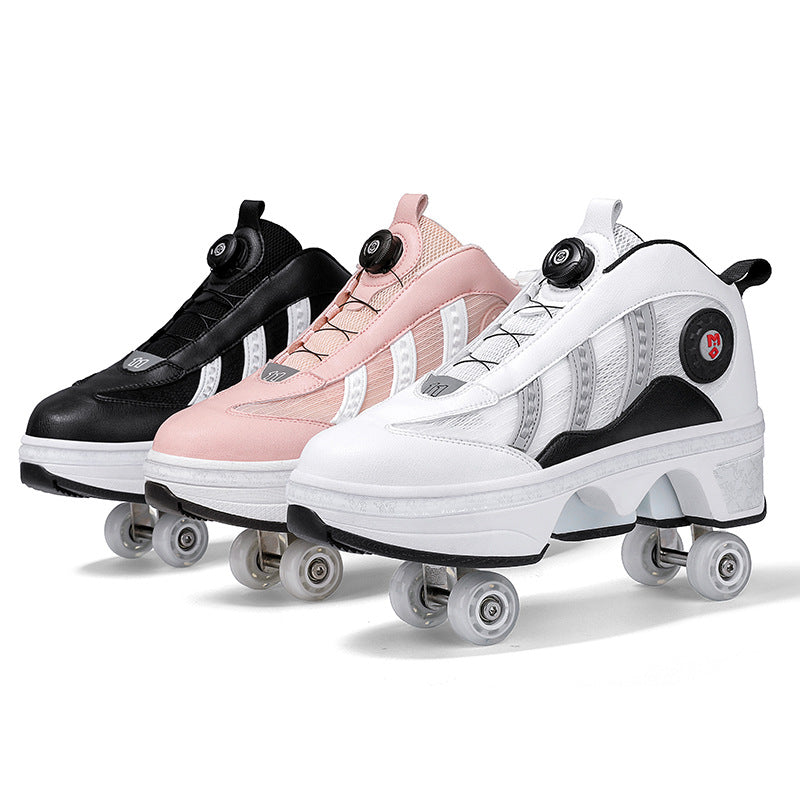 You don't need multiple shoes to make the most out of life. Do out on a walk or jog, and when you are ready to skate, just unlock the switch and get the wheels rolling and glide your way.  Explore our MID-TOP and LOW-TOP roller skate shoes collection and find the most fashionable shoes with wheels for you, your kids, family, or friends!
Shoes with wheels - Walk, run, or skate!
Roller skate shoes were specifically designed for all roller skating lovers. Comfortable sneakers with pop-up wheels are suitable for running, walking and skating.  The mechanism of the kick rollers is made of 0,1″ steel, the weight of one roller shoe is 1,63-1,97 lb, (depending on the size). Max. weight: 220lb.
COMFORTABLE WEAR
The shoes with wheels are comfortable, well-fitting, and designed to be breathable. The antisweat wet mesh helps to ventilate the shoe and give a comfortable feeling as you go about your business.
LOCK / UNLOCK SWITCH
There is a Lock/Unlock button to prevent the wheels from popping up accidentally. You can hide the rollers by pressing the button and walking use them as normal sports shoes. When you need to glide, just press the button on the heels and the shoes turn into roller skates.
COLORFUL LED LIGHT WITH USB CHARGING
LED lighting is powered by a micro USB. The LED light creates perfect visibility for motorists when skating at night.
MATERIAL
The roller shoes are made of high-quality PU leather EVA with a rubber sole. The materials are strong and durable, water-resistant, breathable, and create a comfortable feel.
---