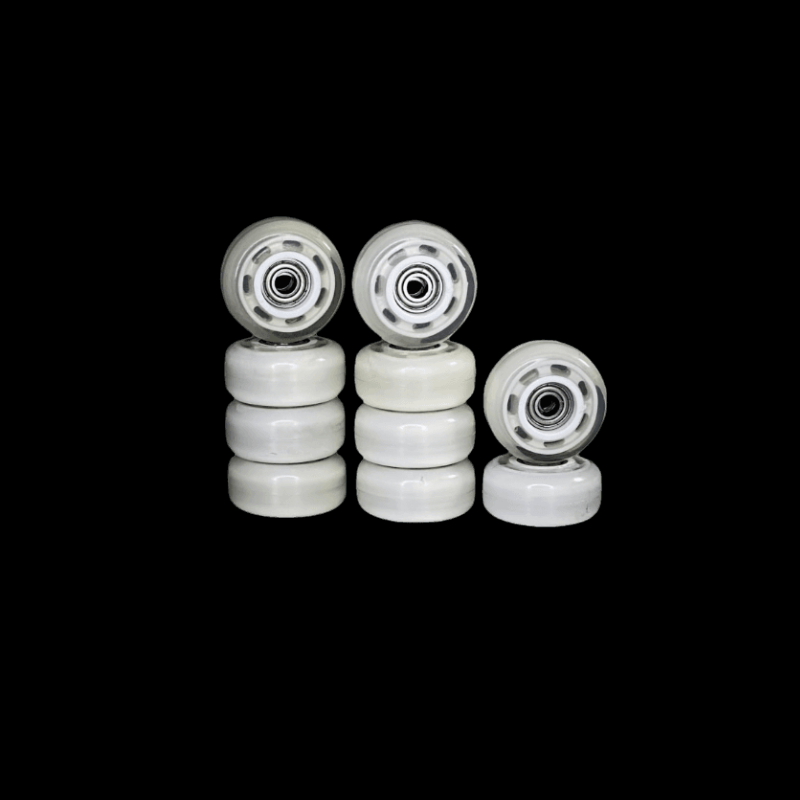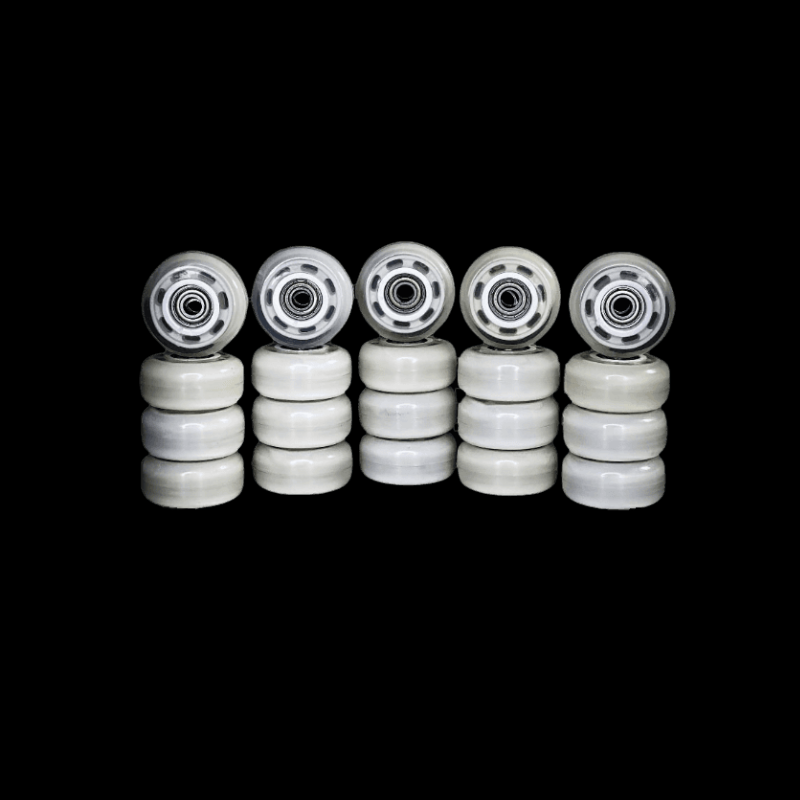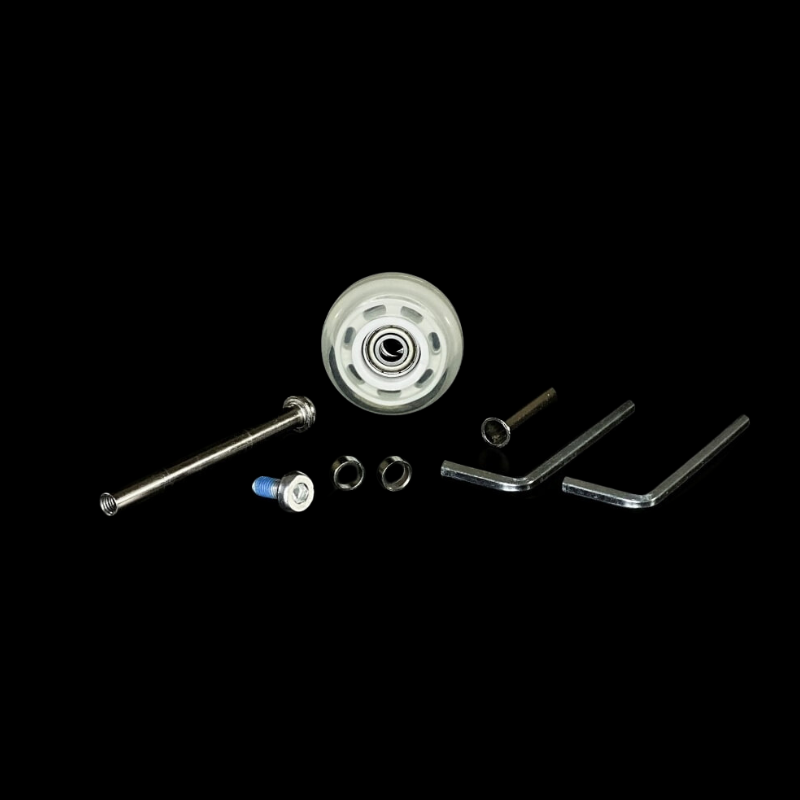 Authentic Spare Wheels & Repair Kit for Kick Speed™ Roller Skate Shoes
---
In stock, ready to ship

Inventory on the way
Spare Wheels for Your Kick Speed™ Roller Skate Shoes
Experience skating rejuvenation with the Set of 5 Spare Wheels tailor-made for your Kick Speed™ Roller Skate Shoes. If your original wheels have seen their fair share of adventures and are showing signs of wear, these spare wheels offer the perfect solution to keep your skating momentum alive.
When your original wheels have served their purpose and are well-worn from countless skating escapades, don't let that slow you down. Our authentic spare wheels are designed to seamlessly replace those tired wheels, giving your Kick Speed™ Roller Skate Shoes a new lease on life. Whether you're a devoted skater seeking to extend the lifespan of your favorite pair or a newcomer looking to ensure consistent performance, these spare wheels are the answer.
Engineered for compatibility and optimized for performance, these spare wheels effortlessly integrate into your Kick Speed™ Roller Skate Shoes, restoring the same level of traction, stability, and control you've come to expect. With these spare wheels at your disposal, you can continue to push your skating limits without missing a beat.
Repair Kit For Kick Speed™ Shoes With Wheels
Bid farewell to those pesky interruptions caused by worn-out wheels and minor repairs. Embrace uninterrupted skating bliss with the Repair Kit for Kick Speed Roller Skate Shoes, your ticket to seizing the skating scene with unwavering confidence. Effortlessly switch out weary wheels, meticulously fine-tune every intricate component of your shoes, and immerse yourself in a skating experience that redefines exhilaration.
We understand the anticipation of receiving your stylish shoes with wheels. That's why we've gone the extra mile to ensure your order reaches you in the shortest time possible. We operate from a network of international warehouses strategically located to match your location, preferred shoe model, and size.
Our goal is simple: to bring the thrill of skating fashion to your doorstep swiftly and efficiently. By utilizing multiple warehouses around the world, we've streamlined our shipping process to make sure you spend less time waiting and more time enjoying your new kicks.
Whether you're in the heart of the city or tucked away in a cozy corner of the globe, our global distribution network is designed to deliver. Experience the joy of skating in style sooner than you think—order your Kick Speed™ Roller Skate Shoes today!
SHIPPING PRICES & AVERAGE DELIVERY TIMES
 

USA

FREE
3 -9 b.d.

Europe & Canada

$5.99

4 -12 b.d.

Australia & New Zealand

$6.99

7 -15 b.d.

South & Central America

$

9

.99

 9 - 18 b.d.

Asia & Africa

$

14

.99

 9 - 20 b.d.
Please be aware that our ability to influence carriers is limited. The estimated shipping times provided are based on historical data from our previous orders. Kindly take into consideration that these estimates are indicative and not definitive. Additionally, please note that our deliveries are exclusively made on business days. Your understanding of these factors is greatly appreciated.
TRACKING NUMBER
• We provide tracking numbers with every order.
• To track your order, please wait up to 2 business days after processing.
• Track your shipment here: TRACK ORDER
• If you don't see the email in your inbox, please check your spam folder or promotion folder, or add info@kickspeedrollerskateshoes.com to your safe sender's list. The prices displayed on our site are tax-free in USD, which means you may be liable to pay for duties and taxes once you receive your order. Import taxes, duties, and relate customs fees may be charged once your order arrives at its final destination, which determined by your local customs office. Payment of these charges and taxes are your responsibility and will not be covered by us. Please note that our shipping costs are non-refundable. We are not responsible for delays caused by the customs department in your country. For further details of the charges, please contact your local customs office.
• Please understand that due to COVID-19, the shipments may delay! The registration and processing of the parcels in the importing sorting centers and airports around the world are slower than usual. Shipping to Russia may take a longer time because of restrictions.
• We process orders within 1-3 business days. Processing includes checking, discussing the correct sizes of items with you, packing, and sending your order out. Processing time should be added to the total delivery time.